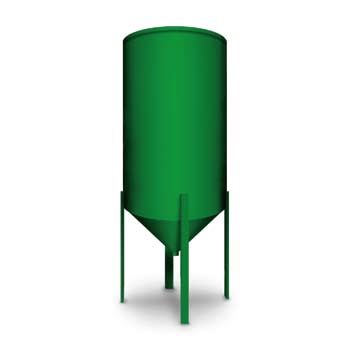 NPT connections for inlet, outlet, overflow, and drains
Gallon indicator markings
Allen Process Tanks (APT) are designed for economical oil
reclaiming and storage. Separation of heavy solids, suspended
water, and other foreign material is more efficient
when natural settling occurs in a cone bottom vessel. The
APT can be equipped with a ladder, platform, and immersion
heater for accelerated separation. The removable
cover allows for easy cleaning and maintenance. The APT
comes equipped with all necessary and desired connections.
Solids, sludge, and water are easily drained off the
bottom through the drain valve. The overflow port allows
for any excess to drain without flooding the tank. The inlet
and outlet ports can be NPT or RF flanged connections.
The sight glass runs the length of the APT and contains
gallon markings for easy fluid level readings. A transfer
pump and motor set can be used to refill drums, transfer
to clean tanks, or refill sumps. Residual fine solids can be
removed with a companion AFM or ASV.
AVP Specifications
Outside Diameter

28.5–60 in
(72.4–152.4 cm)

Height

79–134 in
(200.7–340.4 cm)

Tank Height

36.5–70 in
(92.7–177.8 cm)

Weight

725–2,500 lb
(328.9–1,134.0 kg)

Capicity

120–1,000 gal
(454.2–3,785.4 L)

Water Removal

Suspended water

Particulate Removal

Heavy solids

Inlet Connections

NPT or RF flanged

Outlet Connections

NPT or RF flanged

Overflow

NPT or RF flanged

Drain

NPT with ball valve

Materials of Construction

Carbon Steel

System Gauges & Indicators

Gauge glass

Gallon indicator markings

Code Construction

ASME