Allen Oil Circulation Pump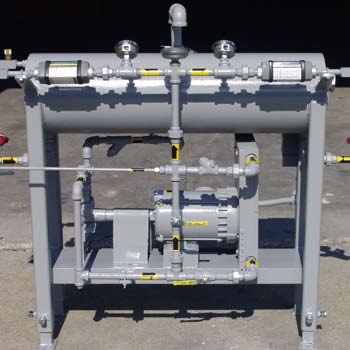 Micro-flow adjustable control
Thermostat-controlled oil cooling
Integrated circulation pump
Low pressure drop and high-cooling capacity
Easy to maintain and retrofit
Allen engineers can design an Oil Circulation and Cooling
systems for any application combining your specific
requirements into a circulation and cooling system. All
our oil circulations systems are straightforward in design
adhering to the ASME code for pressure vessels. These circulation
and cooling systems feature a micro-flow adjustable
control to each bearing, pressure gauges for inlet and
outlet, and a flow meter to see the rate of oil flow. This
system can be designed for circulation of oil in cooling
and oil filter systems, circulation of oil in industrial hydraulics,
transfer of oil in stationary or mobile oil storage
depots.
ATF Specifications
Width

48–96 in
(121.9–243.8 cm)

Height

48–72 in
(121.9–182.9 cm)

Length

48 in
(121.9 cm)

Weight

400–2,000 lb
(181.4–907.2 kg)

Flow Rate

100–4,000 gal/hr
(378.5–15,141.6 L/hr)

Strainer Mesh

100-micron stainless Y-strainer

Pump

Positive displacement gear
pump

Power Supply

480 V, 60 Hz, 3-phase

380 V, 50 Hz, 3-phase

230 V, 60 Hz, 3-phase

Operating Temperature

200°F
(93.3°C)

Operating Pressure

150 psi max.
(1,034,213.6 Pa)

Inlet Connections

NPT or RF flanged

Outlet Connections

NPT or RF flanged

Materials of Construction

Carbon steel

System Gauges & Indicators

Pressure

Temperature

Flow

Code Construction