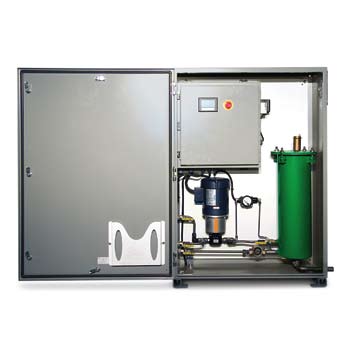 Extends the tap changers life by restoring the oils dielectric strength
Reduces solid particles down to 5 μm
Designed for continuous operation or on a schedule with the on-board timer
Removes water with optional water and solids filter element
The Allen Tap Changer Filter system (ATF) provides optimal
conditions for oil-filled transformer tap changers
used in a variety of circumstances all over the world. The
ATF increases reliability and service life of the tap changer
as well as reduces the overall cost of the maintenance program.
The ATF provides solid, proven, and exclusive benefits
that allow for cost-effective operation and reduced
oil changes while decreasing the risk of explosion or damaging
arcing. The programmable logic controlled touch
panel makes it easy to operate the timer or manage any
of the functions of the ATF. Continued use of an ATF on
a transformer tap changer will restore the oils dielectric
strength and remove particle contamination down to 5
μm. The ATF has proven itself over the years as the investment
that provides the power industry a reliable, sustainable,
and feasible solution to the challenges of managing
a transformer tap changer.
ATF Specifications
Width

48 in
(121.9 cm)

Height

60 in
(152.4 cm)

Length

12 in
(30.5 cm)

Weight

260 lb
(117.9 kg)

Flow Rate

3 or 5 gal/min
(11.4 or 18.9 L/min)

Water Removal

Optional filter element
required

Particulate Removal

> 5 μm

Pre-Filter

Solids filter element

Pump/Motor

0.5 hp (372.8 W) TEFC electric,
close-coupled

Power Supply

480 V, 60 Hz, 3-phase

380 V, 50 Hz, 3-phase

230 V, 60 Hz, 3-phase

110 V, 60 Hz, 1-phase

Operating Pressure

120 psi max.
(827,370.9 Pa))

Inlet Connections

0.75 in (1.9 cm), NPT

Outlet Connections

0.75 in (1.9 cm), NPT

Controls Interface

Programmable logic controller

Forward/reverse switch

Touch screen interface (optional)

Emergency stop

Safety Shutdown Alarms

Differential pressure switch

Cabinet flood switch

System Gauges & Indicators

Differential pressure>

Cabinet temperature

Materials of Construction

NEMA 4 enclosure

Code Construction

ASME