Allen Metering & Dosing Pump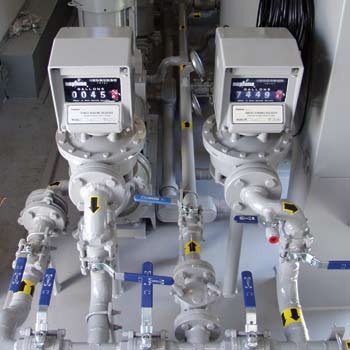 Chlorination dosing systems
Electrolyte dosing systems
Duplex diaphragm pump system
Multiplex metering systems
Metering and Dosing systems can range from complex
pumping systems with fully-automated, closed-loop flow
control to simple manual additions of an ingredient over
a time period. The requirement for a metering system versus
a standard pumping system is usually the result of
two important considerations. First, the amount of fluid
being added to a process is critical in ensuring the quality
of the end product; second is the fluid being pumped.
It is also important to know how the fluid will respond
with the potential added heat and pressurization of the
pumping system. Other factors to consider are speed and
injection control, manual or programmable logic controls,
and calibration abilities. All these issues are factored into
every Allen Filters Metering and Dosing system.
ATF Specifications
Flow Rate

50–4,000 gal/hr
(189.3–15,141.6 L)

Strainer Mesh

100-micron stainless

Pump

Power Supply

480 V, 60 Hz, 3-phase

380 V, 50 Hz, 3-phase

230 V, 60 Hz, 3-phase

Operating Temperature

200°F max.
(93.3°C)

Operating Pressure

150 psi max.
(1,034,213.6 Pa)

Inlet Connections

NPT or RF flanged

Outlet Connections

NPT or RF flanged

Materials of Construction

316 stainless steel

Alloy 20

Hastelloy C & B

Titanium

Monel

PVC

PVDF

Code Construction