Allen Lube Oil Supply Pump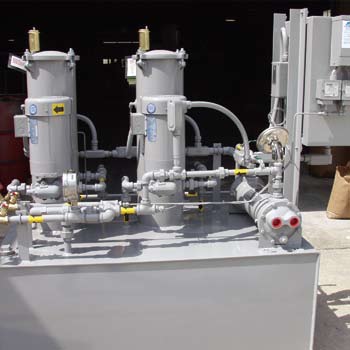 Thermostat controlled oil heating and cooling
Integrated circulation pump
High-precision flow controllers
A Lube Oil Circulation system is used to heat and cool the
oil as it flows through. All our Lube Oil Circulation systems
are easy-to-use and adhere to the ASME code for pressure
vessels. The system includes flow control valves, a programmable
logic controlled electrical system, filter vessels, and
a pump/motor combo. Also included are pressure gauges
for inlet and outlet pressure on both filter vessels, a flow
meter to see the rate of oil flow, a heating element, and a
heat exchanger to cool the oil. It comes with alarms for low
flow, change element, high temperature, low pressure, high
pressure, and low level in the tank.
ATF Specifications
Width

48–96 in
(121.9–243.8 cm)

Height

48–72 in
(121.9–182.9 cm)

Length

36 in
(91.4 cm)

Weight

400–2,000 lb
(181.4–907.2 kg)

Flow Rate

100–2,000 gal/hr
(378.5–7,570.8 L/hr)

Strainer Mesh

100-micron stainless Y-strainer

Pump

Positive displacement gear
pump

Power Supply

480 V, 60 Hz, 3-phase

380 V, 50 Hz, 3-phase

230 V, 60 Hz, 3-phase

Operating Temperature

200°F max.
(93.3°C)

Operating Pressure

150 psi max.
(1,034,213.6 Pa)

Inlet Connections

NPT or RF flanged

Outlet Connections

NPT or RF flanged

Materials of Construction

Carbon steel

Safety Shutdown Alarms

No Flow

System Gauges & Indicators

Pressure

Temperature

Flow

Code Construction